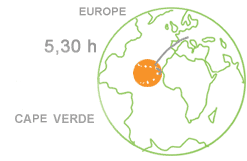 Cape Verde and Boavista are connected to Europe with TAP Air Portugal (www.flytap.com) and TACV CaboVerde Airlines and some Airlines charter Companies.

The main Cape Verde international airport is  "Amìlcar Cabral" on Sal Island. From Sal island, local TACV flights connect Sal to Boavista in only 15 minutes.

Ca' Nicola can provide to the research and reservation of domestic flights (in the Archipelago), from Sal island to Boavista.