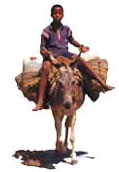 Following 500 years of Portuguese rule,
the archipelago of Cape Verde
became an independent republic in 1975. Made up of ten islands and various islets, divided between Barlavento and Sotavento.
Santo Antao. The farthest island to the west is one of the most beautiful. The mountains, valleys and pine forests make it perfect for hikers. Lodging can be found in small pensions or private homes.
Sao Vicente. Another fascinating island, with the historic port of Mindelo, the cultural capital for music
(the birthplace of Cesaria Evora and other composers), with a very famous carnival. Nice hotels available.
Sao Nicolau. Famous for fishing and, like Santo Antao, for green valleys. Only small pensions are available.
Sal. It has been the first island with an International airport. The highest number of hotels for tourists, Particularly arid and windy.
Maio. Flat and dry, with a few nice beaches, a miniature of Sal. Small pensions and bungalows.
Santiago. The first island to be colonized by Europeans. Home to the current capital, Praia, and the Cidade Velha, the most important archaeological site of Cape Verde. The fort, with its cannons, and the square are reminders of the slave trade and the colonization period, hold by the Portuguese. Hotels of high quality.
Fogo. The island of the volcano, the Pico de Fogo, over 2,800 meters high. Climb the volcano to enjoy an extraordinary panorama. The capital city is Sao Felipe, the second city to be founded in Cape Verde. Few pensions, but some with charm.
Brava. Also called the island of flowers, it's the smallest and most remote island. Suitable only for those cultivating a hermit's soul.